Welcome to Divas Beauty Spot
The Best Salon in Nairobi, Kenya
We are a full-service men and women hair salon, barber, beauty parlor and aesthetic medical spa located in the heart of Nairobi CBD. We seek to provide the best friendly and personalized services through a team of highly skilled and creative professionals in a clean and relaxing environment.
You deserve better than a rushed service. Talk to us today for tailor-made services.
As the best salon in Nairobi, we deliver the best of hair works customised to your preference. From hair relaxing, texturizing, hair treatments, natural hair, hair coloring, tonging, straw sets, perm rods, flexi rods, wave nouveau and hair styling, Divas Beauty Spot guarantees quality and satisfaction.
Whether you would like to transform your appearance by trying a new haircut or give your hair curls and colour; our stylists will help you achieve that look to fit your style. Visit us for head shave, beard shave, tapered haircuts, short hair color and rugged haircuts.
Turn to our skilled hands for top-notch braiding services in Nairobi that will leave you looking great and feeling gorgeous. We offer services such as knotless, lemonade, bob, stitch lines, crochet, goddess and twist braiding. 
We have an array of wellness services such as deep tissue massages, relaxing Swedish massages, aromatherapy, reflexology and prenatal massages. We embody wellness, cleanliness and a warm ambience that ensures your relaxation which promotes general body wellness.
We work with professionals to debunk the myth that dreadlocks are untidy and unprofessional. Locked hair is protective and promotes healthy growth. Using our talents we style and specialize in sisterlocks, dreadlocks, micro crochets, artificial locks and grafted locks.
Spring twists, Nubian twists, chunky twists, messy locks, goddess locks, butterfly locks, river locks, weaving, wig styling and installation, crochets; you name it, we do it.
Bridal hair.
Bridal make up.
Bridal nail care.
Bridal facials.
Bridal massage and body scrub package.
Flat twists, twist outs, two strand twists & comb twists/curls.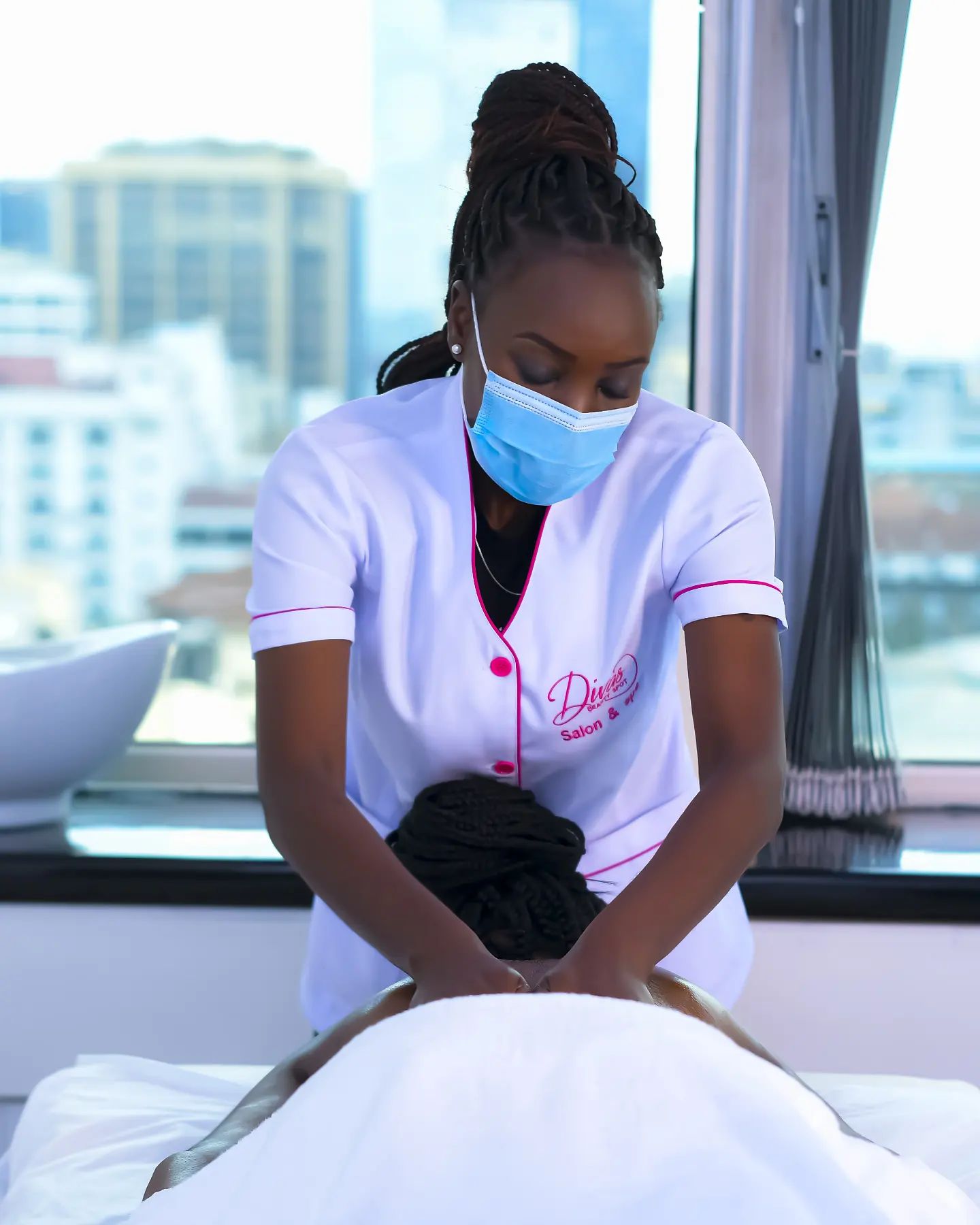 Marvelous place, highly professional, great quality service with exceptional kindness and hospitality! It was great for me Divas open on Sundays. Thank you Kate and the team ♡☆♡☆
What Are You Waiting For...
Want to make booking or have a question?