A facial is essentially a multi-step skin treatment done to take care of your skin. A facial cleanses, exfoliates, and nourishes the skin, promoting a clear, well-hydrated complexion and can help your skin look younger.
Skin Analysis/Consultation
Skin analysis is a process of identifying a client's skin type, condition, lifestyle, medical history, current skincare regime and to identify goals that improve their skin.
Our spa offers appointments with a highly trained skin Therapist, who undertakes a detailed consultation about your skin and your current skin-care routine and will analyses your skin using a state-of-the-art machine. The machine takes a photo of your skin showing the layers of your skin on what you cannot see with your naked eyes, analyses the pores, sun damage, acne and acne scarring, pigmentation, ageing concerns such as texture, wrinkles and fine lines, eye bags, capillaries and redness.
During your skin consultation our therapist will discuss your goals and analyze your skin. After this, he will provide you with options for professional treatments for your skin concerns.
We take a holistic approach to your skin concerns by finding out about your diet, lifestyle, sleeping habits, stress levels as they all affect the skin.
The main benefits of having your skin analysis are:
We have the ability to improve your skin with the correct treatments and skin care
We can address underlying issues like sun damage, pigmentation, blocked pores, wrinkles and fine lines.
Professional treatments and home-care is 100% tailored to your needs and will start correcting and treating your skin issues.
It will allow you to stop signs of damage before they reach the surface of your skin.
We advise you on some lifestyle tips that's ensures skin gives you the best
How To Prepare For Skin Analysis/Consultation
Come with a clean face freshly washed without make up, this speeds up our time together as we get to see your skin in its natural state to recommend a customized routine.
Know your current skincare regime for us to know what you feed your skin with, it's great to carry the products with you to the spa.
Follow instructions given by the therapist as the this is best left to the professional to give you what works best with your skin condition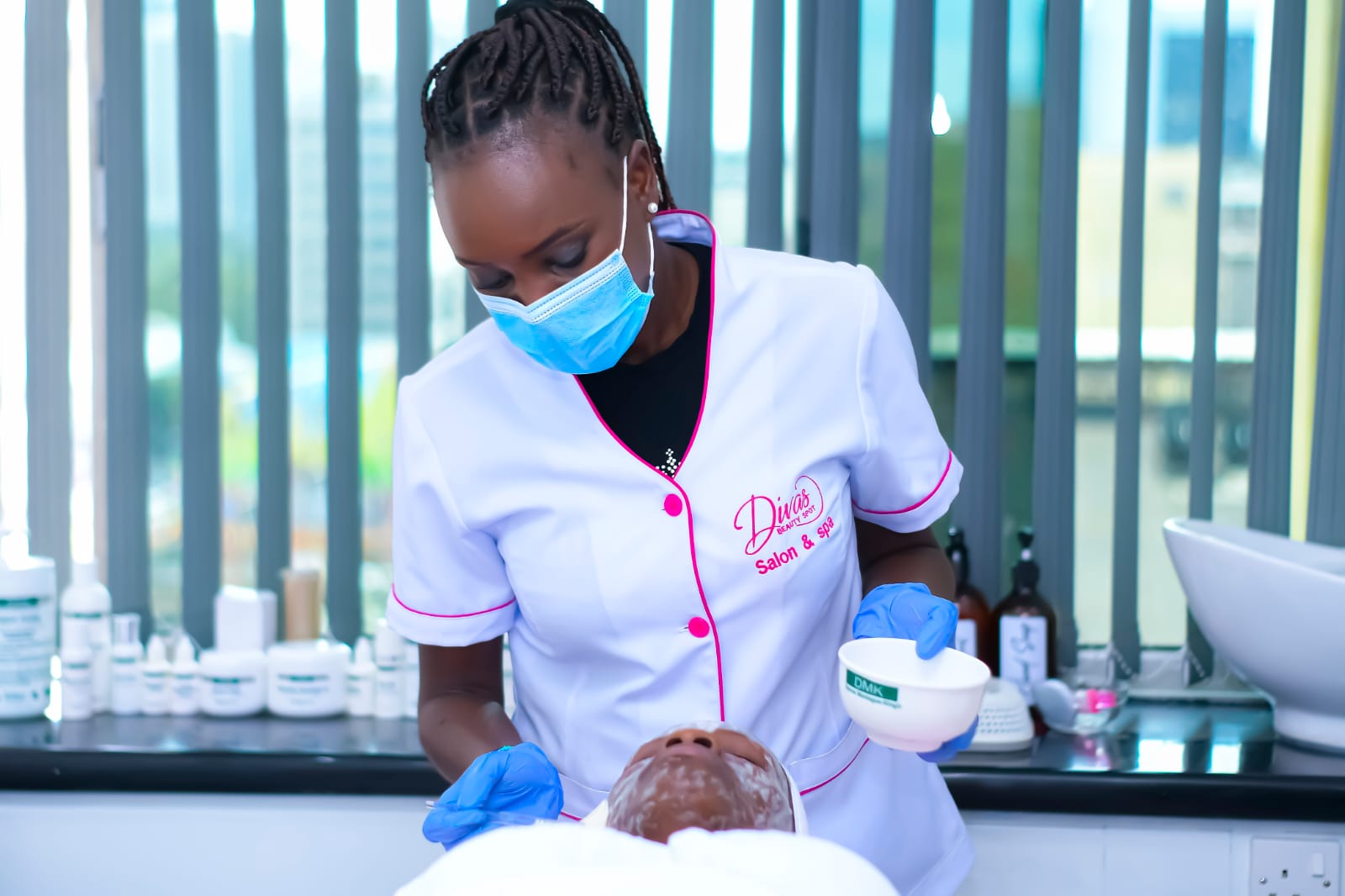 Price Range Ksh 4, 000-9, 000
This is your ideal treatment if your skin is exposed to a lot of free radicals, smog and environmental pollution which can suck the glow off your skin. If you have never had any skincare routine and your skin is rough and textured.
Antioxidant facial gives your skin an enzymatic exfoliation, stimulates blood flow to the skin which speeds up the generation of new skin cells for a fresher brighter layer of skin. We always recommend a customized homecare regime to maximize results of the facial treatment.
In case there is an underlying problem; we always handle as we recommend monthly facial treatments that continue to improve your skin to your expectation.
Price Range Ksh 4, 000-9, 000
Sebaceous fluids flow freely combining with sudoriferous secretions to create acid mantle, if this process is not in balance; your skin is either very congested or goes through trans epidermal water loss, with acne, pustules, papules, Comedones and cysts with a lot of hardened sebum underneath, our team uses different facial electrical procedures plus professional skincare to perform a deep cleanse advanced facial to decongest the skin through methods like desincrustation, iontophoresis and high frequency to remove hardened sebum wax and oils from epidermis, hydrate and moisturize skin, eradicate dead skin, dirt and dust, treat fine lines and wrinkles, exfoliate skin and treat acne bacteria, unclog pores, black heads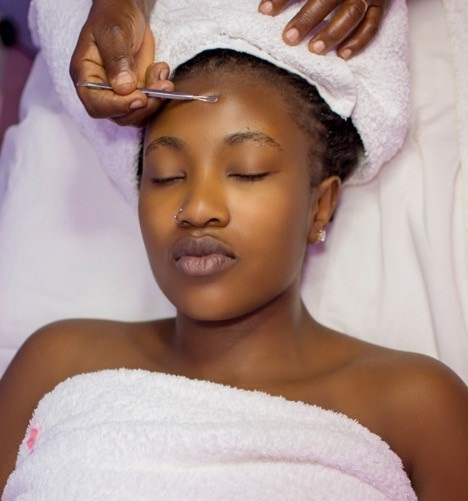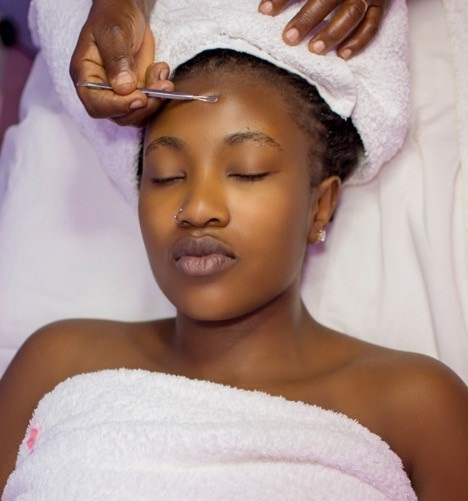 Price Range Ksh 4, 000-9, 000
An advanced facial treatment that's tailored to nourish your skin by restoring cellular lipids. Reduced water percentage which affects the skins barrier by
Reducing cellular lipids
Impaired acid mantle and immune response.
Compromised structural integrity
Severe cases lead to eczema and psoriasis, these conditions occur when vital fluids evaporate and the skin becomes dry and inflamed.
Inflammation, lack of firmness and thickened red pore appearance are all indicators of trans epidermal water loss.
Restoring free water levels and thickening of the matrix of the skin is an integral part of revising the skin back to a healthy functional state.
Price Range Ksh 4, 000-9, 000
Lymphatic system is a key part of the immune system, with a network of hundreds of nodes, it drains lymph fluid back to the blood stream, carries white blood cells that help prevent infection.
Great for puffy dull skin which enhances circulation by delivering oxygen as toxins are cleared. When done frequently; lymphatic drainage improves skin texture as it promotes desquamation, promotes blood flow.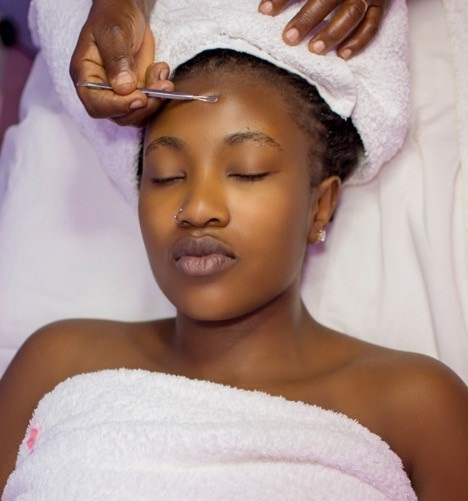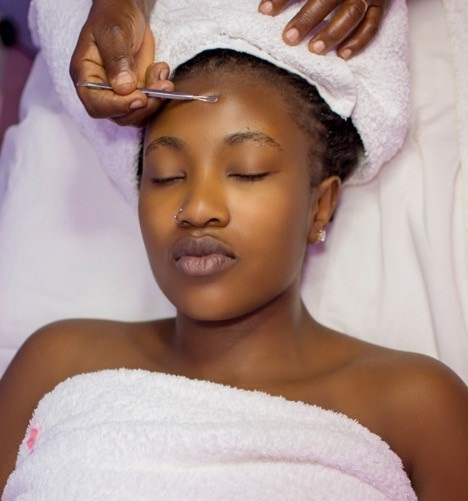 Antiaging Facial Treatment
Price Range Ksh 4, 000-18, 000
As skin ages, there is a reduction in both number and size of skin cells.so skin functions less effectively as a protective barrier, temperature regulation is less efficient and there is a decline in production of sweat, sebum, and vitamin D.
Skin becomes increasingly thin over time due to reduction of collagen, elastin and hyaluronic acid. Cell turns over reduces and wound healing slows down leading to dry skin, fine lines, deep furrows and wrinkles, broken capillaries, vascular scarring and uneven skin pigmentation.
Antiaging treatments are deep formulated to address the skin issues that develop as a result of intrinsic and extrinsic factors. They are an important component of an anti-aging strategy which includes preventative, topical and professional treatments procedures. 
Saggy skin lacking bounce, trans epidermal water loss, sun damage, dilated capillaries, vascular scarring & bruising, fine lines and wrinkles are conditions we treat by strengthening the tissues by firming, lifting 
and tightening sagging skin, our professional procedures also have anti-inflammatory properties which strengthen aging skin and weakened fragile capillaries
Skin tags occur when extra cells grow in the top layers of skin, they're usually found in the folds of the skin, for example, in the armpits, groin, thighs, eyelids, neck or under the breasts. They are loose collagen that grow in thicker areas of skin caused by friction, pregnancy hormones, weight gain, hormonal imbalance, and genetics.
Our aestheticians remove skin tags through local anesthesia with electrical energy. Homecare advise and follow up is given after this. There is no down time on skin tags removal and skin is fully healed in a weeks' time.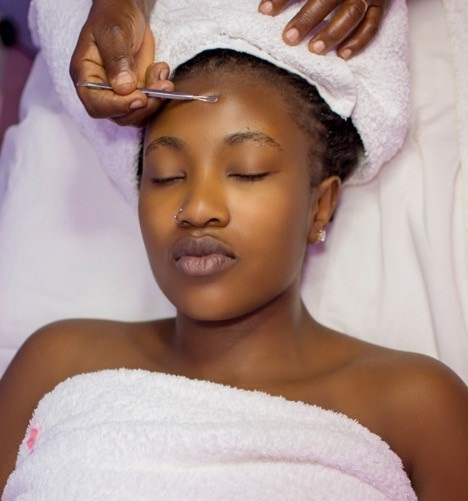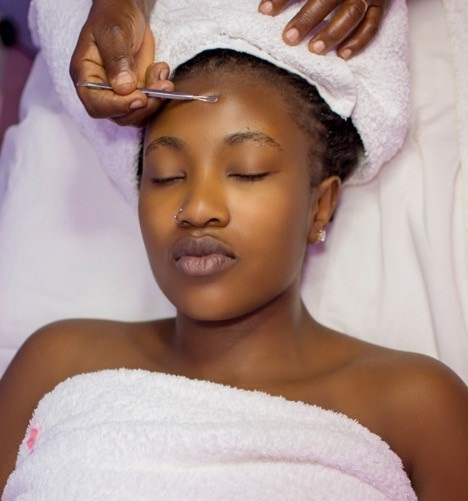 Microdermabrasion Facials
Microdermabrasion facial is a mechanical method of exfoliation and removal of dead cell material for better skin tone and texture. Our aestheticians recommend micro dermabrasion facial for thickened, congested, sun damaged, age spots, acne scarring, melasma, fine lines and wrinkles.
Skin Renewal Aesthetics offers derma plane facial by exfoliating your skin via removal of vellus hair (peach fuzz) leaving your skin brighter and smoother. The treatment softens fine lines and wrinkles, acne scars, dull skin and sun damaged skin. We recommend no exfoliation a week prior to dermaplaning treatment. Dermaplaning facial can be done monthly by our certified aestheticians who will always do a skin analysis consultation which is mandatory prior to the treatment to ascertain any contraindications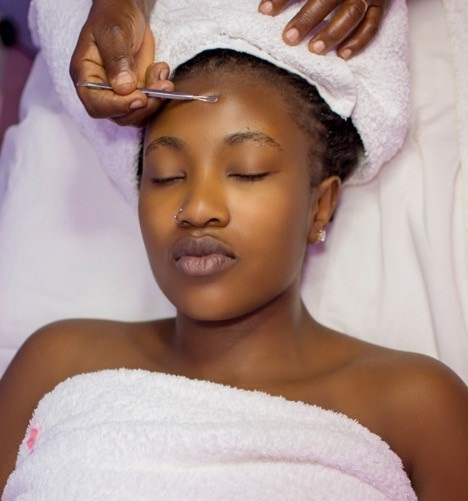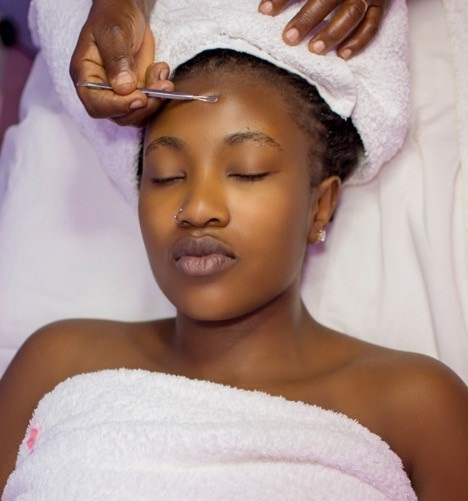 Chemical peels are great for improving skin texture, tone, color. Wrinkled skin, saggy skin, uneven pigmented skin and scarred skin may benefit from chemical peels. Chemical peels remove top dead skin layers as a form of exfoliation,
Skin renewal aesthetics offers light to deep peels that are recommended after skin analysis consultation. skin analysis consultation is mandatory prior to chemical peel treatment to ascertain safety contraindications
Micro needling is offered by our qualified aestheticians by punching small holes into your skin using sterilized needles to stimulate collagen brought about by the body's natural healing response.
A very effective treatment for treating acne scarring, dark spots, uneven pigmented skin, mature skin. skin analysis consultation is mandatory prior to micro needling treatment to ascertain safety contraindications.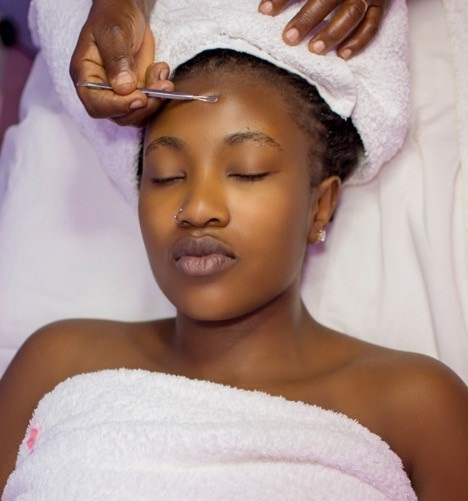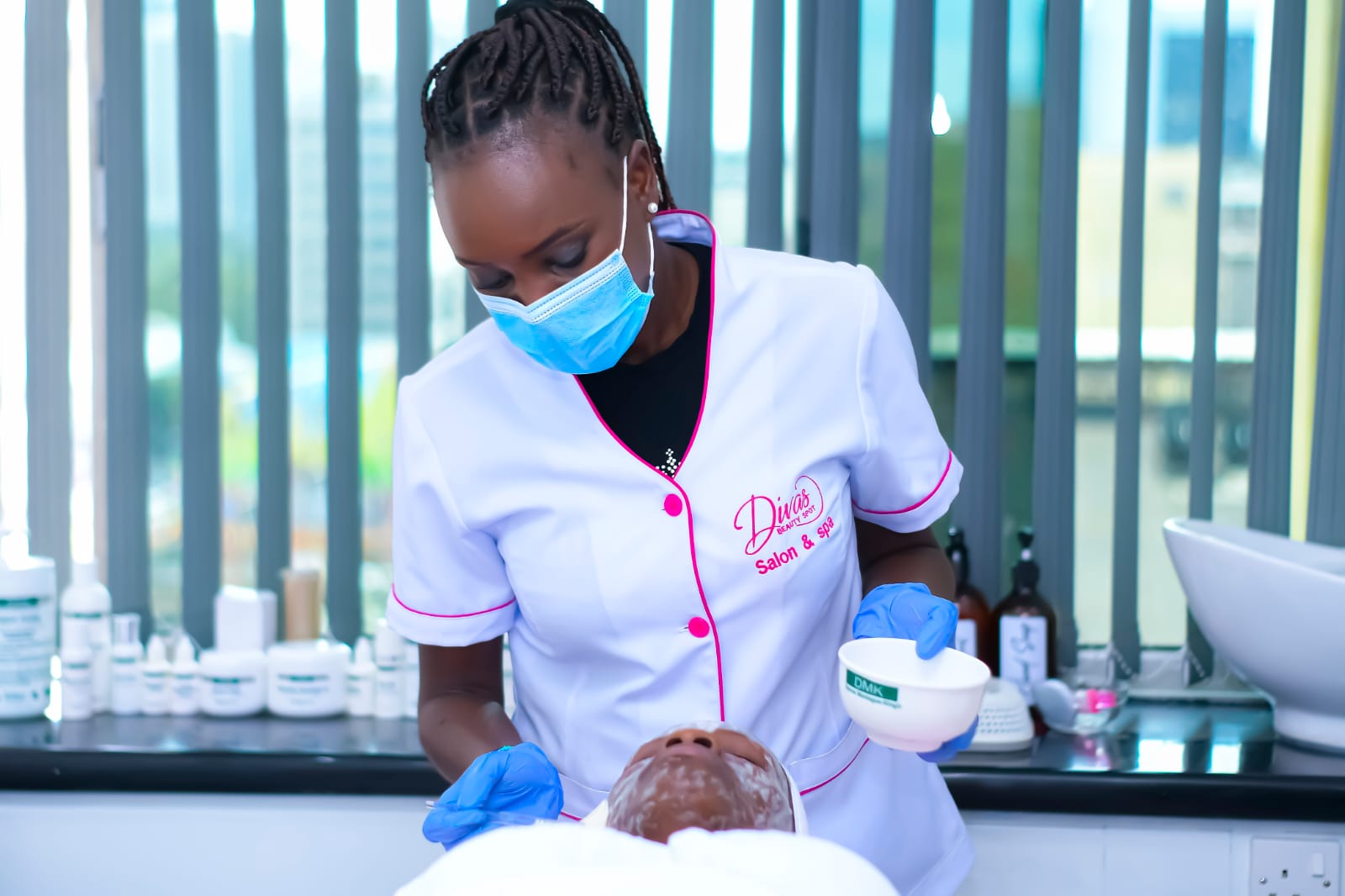 Facial steaming is letting your skin absorb steam into your face for several minutes using a facial steamer. For the most effective results like opening pores and to loosen buildup of dirt for deeper cleansing, softens black heads making it easier to clear them.
Deep cleansing facial provides a deep cleanse after steaming to help the skin get rid of unwanted buildup of dirt, bacteria and dead skin cell. They contribute to unwanted skin conditions like acne breakouts and premature aging.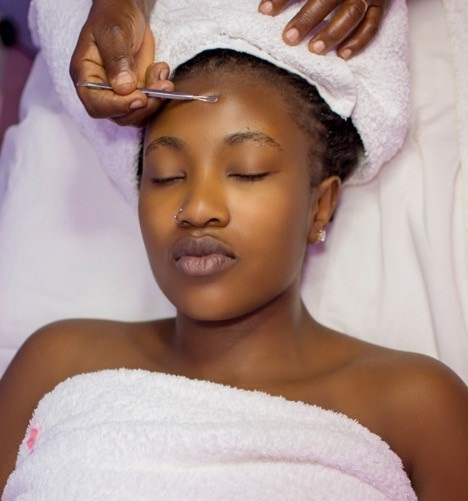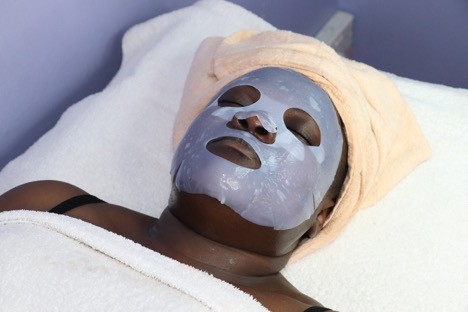 Masks generally increase skin moisture levels making your skin appear more soft, radiant & luminous. With frequent use the skin becomes younger looking firmed and lifted. The appearance of finer lines and wrinkles is reduced leaving your skin glowing.
Want to make booking or have a question?
Call us on 0720 161 444 or simply book an appointment
Want to make booking or have a question?
Call us on 0720 161 444 or simply book an appointment